Grias Pidima beach … means the old woman's jump
The Grias Pidima beach is the most characteristic one of Andros. It is located on the southeastern coast of the island near Korthi and has crystal clear turquoise, shallow waters. However, the approach to it is slightly adventurous, especially if you have children, as the beach is scarce and inaccessible.
To reach it, you need a car and a short slope downhill, following a 5-minute path. Lovers of hiking choose to approach Grias Pidima beach via the trail of Gialos and St. Kathrin since this offers them an astonishing walk.
One beach, lot's of stories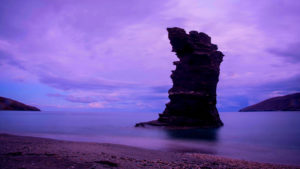 It is clear that to give this name to a beach; there was once an old woman that jumped somewhere. When and under what circumstances? There are three versions of the myth that has to do with the rock that dominates the beach, and if you look at it from a particular angle, it reminds the profile of a senior woman with a scarf. One version speaks of an old lady who jumped off the rock because she did not stand up to loneliness after she was found widowed for the third time. Another version speaks of Turks hunting an old lady, and she desperately climbed to the rock to commit suicide, so as not to fall into their hands.
The most popular version of Grias Pidimas legend refers to the Castle of Gria, also called Castle of Faneromeni in the village of Kochylou, which was remarkably fortressed during the Ottoman domination and the Turks were unable to take possession of it. For this reason, they turned to fraudulent means, sending an old woman with her pregnant daughter, to seek help. At night, the old woman opened a gateway to the Turks, who killed the settlers. Regretted and ashamed of the evil she caused, the old lady committed suicide by jumping into the sea. At the place where it happened, the old lady turned to stone, giving the rock its bizarre shape and the beach the most sensible name for it.