Diapoulis Pharmacy at Chora of Andros Island
Diapoulis pharmacy is located in Chora of Andros at the beginning of the central pedestrian street, housed in the old post office building. It has been operating consistently since 1980 offering reliable services and products to the people of Andros and the visitors to the island.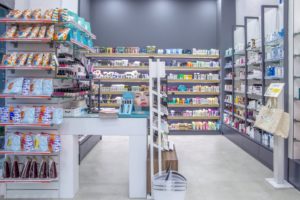 At Diapoulis Pharmacy you can find all the popular products from well-known pharmaceutical and para pharmaceutical companies as well as many choices of selected nutritional supplements, and beauty and body care products.
Diapoulis Pharmacy's experienced staff along with the valuable experience of Aris Diapoulis will guide you, advise you and find a solution to any of your concerns. Moisturizing, anti-aging, hair care, baby & child care, maternal care, natural cosmetics, and sunscreens are just some of our areas of expertise. Care, trust, and personal touch are the philosophy of Diapoulis Pharmacy.